Pressure as a Motivating Factor
September 25, 2017
/
/
Comments Off

on Pressure as a Motivating Factor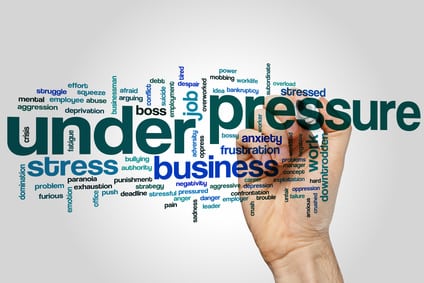 It is quite clear that people who react to pressure (in their private and professional lives) by becoming incapable will not be able to fulfil any meaningful role. However, people who react to pressure by taking action can fulfil a wide variety of roles.
Pressure is a result of many different causes, such as: uncertainty or a feeling of losing control over events (as formerly described), too many events occurring over a short period of time, conflicting expectations that different people have from one individual and so forth. Not only are the causes of pressure different, but so also is the way it affects different people. There may definitely be situations in which a person will react to objective pressure in a totally different way to their co-workers. Even in family life there are situations in which one of the spouses is quite stressed by an event that does not at all disturb the other.
Living in the modern world introduces people to various and plentiful sources of stress. Some see the stress as an oppressing factor which does not allow regular and proper work and some are at their best under stress. Some people rush with eyes wide open into stressful situations. Entrepreneurs, and especially entrepreneurs who become businesspeople, must relate to stress as a permanent factor that will always be present in their work life. It must not be perceived as a disturbing or delaying factor. They must accept it as a central and significant part of their work, treat it with respect and know how to live with it in peace.
Optimism
"It cannot be done" as opposed to "let's see what needs to be done". "It won't work" as opposed to "in order for it to work we need to press on these two buttons twice". Sound familiar? This is the main difference between pessimism and optimism and between positive thinking and negative thinking. And eventually, between increasing chances of failure and increasing chances of success.
Optimism is the main, most important and most necessary, quality for the initiating process. In order to start the ball rolling every project (whether personal, scholastic, professional, career or enterprising) needs a good measure of optimism and positive thinking. The kind of optimism and positive thinking combined with the proactivity that will not allow the entrepreneur (whoever they are) to sit on the sidelines but pushes them to act.
It is very important for me to emphasize that a person who is optimistic in nature is not necessarily unaware of dangers or willing to overlook them. An optimist is not necessarily a person that is gullible or that will not insure their car or lock up their bicycle because they have convinced themselves that no thief would covet them. An optimist is not blind to danger; they just have a particular way of thinking. The fact that an optimistic person is not necessarily naïve should be clearly understood by any person wishing to enter the world of business or to expand their financial or marketing occupation. There is no contradiction between the fact that the entrepreneur, the one we are discussing now and will continue to discuss throughout the book, must be careful and watch their partners very closely and yet still need to be optimistic and think positively. In other words, on the one hand they must think positively and on the other hand they must be alert and watch for danger. Optimism and cautiousness are not opposing traits, but ones that complete each other.
This is true also for our personal lives. The fact that a family decides to go on vacation or on a trip, does not contradict its need to take a first aid kit or a sewing kit with them in case a hand is cut or a shirt button falls off. The family should think of the pleasure and fun of the trip and at the same time be prepared for any mishap or event that may spoil it.