Researchers from the Institute for Nanotechnology and advanced materials (BINA) in Bar-Ilan University, win funding from the Israel Innovation Authority, as part of the MAGNET incentive program – MDM
November 8, 2017
/
/
Comments Off

on Researchers from the Institute for Nanotechnology and advanced materials (BINA) in Bar-Ilan University, win funding from the Israel Innovation Authority, as part of the MAGNET incentive program – MDM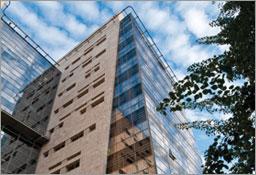 The Israeli chip consortium, MDM – Multi Dimensional Metrology, which promotes the development of measurement and process control technologies in the chip industry, based on data fusion from many sources, began to operate in September following approval of the Israel Innovation Authority.
The new consortium, established at the initiative of Applied Materials Israel, will include researchers from the Institute for Nanotechnology in the Bar Ilan University: Dr. Yaacov Tischler, Dr. Sharon Shwartz and Dr. Lior Klein who were granted funds totaling 727,419 NIS to carry out their researches. The funds for the MAGNET program to the Bar-Ilan University, were raised by BIRAD – Research and Development Company LTD.
MAGNET is a program sponsored by the Office of the Chief Scientist of the Ministry of Industry, Trade & Labor, which focuses on strengthening the Israeli Industry through funding of research and development collaborations between industrial companies and academic research groups, seeking to develop innovative technologies in different fields. The government is expected to fund about 80% of the academic research budget of the consortium through the Innovation Authority (and the rest from the industrial companies in the consortium) and is expected to operate for 3-5 years.
The chairman of the consortium is Yoram Uziel, Director of Technology at PDC, Applied Materials Metrology Division. The new consortium will include leading companies in the field of process control, such as Nova – a leading innovator and a key provider of metrology solutions for advanced process control used in semiconductor manufacturing, Bruker (which acquired Jordan Valley of Israel), Dell EMC, Nanonics, leader in atomic microscopy measuring solutions, Nanomotion, which develops nanoscale conveyance systems, EL-MUL, from Rehovot, which manufactures detectors for the nanoscale industry.
The academic side will include research groups from the Technion, Hebrew University, Tel Aviv University, the Weizmann Institute, and Ben-Gurion University, which will also provide construction services for nanoscale structures.
About BIRAD – Research & Development Company Ltd.
BIRAD, established in 1974, was founded in order to commercialize the academic knowledge of the Bar-Ilan University. The company offers collaborations, corporations and alliances to manage the intellectual property, technology commercialization by creating risk and licensing, promotion of scientific service agreements through the technological knowledge and infrastructure of the University for the benefit of the members of the industrial community, and outsourcing services for the business sector as part of the Division of Scientific Services. The company has access to facilities for life sciences, Nanotechnology, chemistry and other fields of research. The company collaborates with the Institute for Nanotechnology and the Faculty of Medicine in the Galilee, and has signed collaboration agreements with international companies such as Samsung, BASF, GM, EMC, and more.
For additional info: Merav Burstein:, cell: 972-52-2229330, email: [email protected]