ContinUse Biometrics one of ten start-ups to take first place in 2018 Prism Awards for breakthrough applications in photonics
February 13, 2018
/
/
Comments Off

on ContinUse Biometrics one of ten start-ups to take first place in 2018 Prism Awards for breakthrough applications in photonics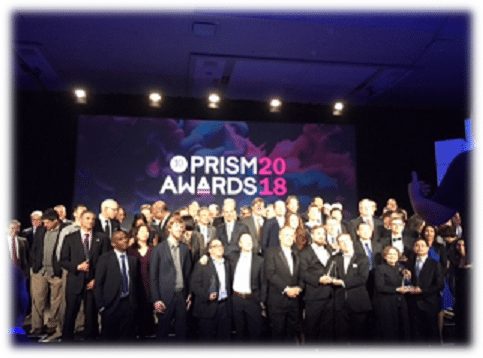 Company recognized for its development by Bar-Ilan University engineering professor of a biometric sensing system that detects biomedical parameters from a distance without human contact
Israeli start-up ContinUse Biometrics is among the ten first-place winners of the prestigious 2018 Prism Award (the Oscar of the photonics industry) for the Medical and Health category. The company is being recognized for its invention of an optical sensing system (sensory camera) in a competition sponsored by Photonics and SPIE Media This is the tenth year that the competition has been held.
"We chose the ten companies that introduced the greatest innovation and creativity in their products and showed impressive data and performance in every possible parameter. These are inventions that, without a doubt, advance the photonics industry and its prosperity," noted the organizers of the competition.
ContinUse Biometrics took first place for its laser-based detector and camera that remotely and accurately identify nanoscale movements. The sensor is aimed at the subject, enabling accurate physiological data to be obtained.
ContinUse Biometrics focuses on developing novel devices for the health field in general and preventive medicine in particular — for use in the home, the vehicle, the workplace and the clinic. Its products enable ongoing monitoring of vital indicators and patients suffering from chronic diseases such as heart disease, respiratory diseases, and more.
The products developed by ContinUse Biometrics is ideal for senior citizens by virtue of the fact that it transfers medical care from the doctor's office to the home environment and alerts medical professionals to any change in vital indicators. The attending physician receives all the readings remotely and provides appropriate medical instructions to the patient. This Telemedicine platform has the potential to minimize visits to clinics and/or hospitalization, while monitoring the patient in his own home in a comfortable, non-contact environment and increased level of service.
The detector is based on the development of Bar-Ilan University engineering professor Zeev Zalevsky, Chief Technology Officer of ContinUse Biometrics. . The detector identifies several groups of physiological parameters including vital signs such as heartbeat,, breathing and blood pressure; allows for listening to heart and breathing sounds (much like a stethoscope); identifies changes in peripheral blood flow patterns; identifies hematologic parameters; identifies people according to their heart tone; and provides muscle and bone measurements including changes in muscle tone and detection of fractures. All measurements are conducted remotely, with no human contact.
The response of medical markets to this development has been most enthusiastic, and the business potential is estimated at hundreds of millions of dollars. In addition, the company plans to activate the sensor in clinics and operating rooms. In this framework, the company will perform several hospital clinical trials over the coming year.
ContinUse Biometrics was founded by CEO Asher Polani with assistance from Bar-Ilan University's BIRAD Research and Development Company Ltd., which promotes the commercialization of innovative technologies invented by university researchers, and encourages scientists to advance and expand their research with an eye toward industrial applications.
For further information, contact: Merav Burstein, BIRAD Research and Development Company Ltd., 077-3643534, 052-2229330, Merav@birad.biz