Researchers Develop New Technology to Produce Powerful Disinfectant Based on Tap Water
May 12, 2019
/
/
Comments Off

on Researchers Develop New Technology to Produce Powerful Disinfectant Based on Tap Water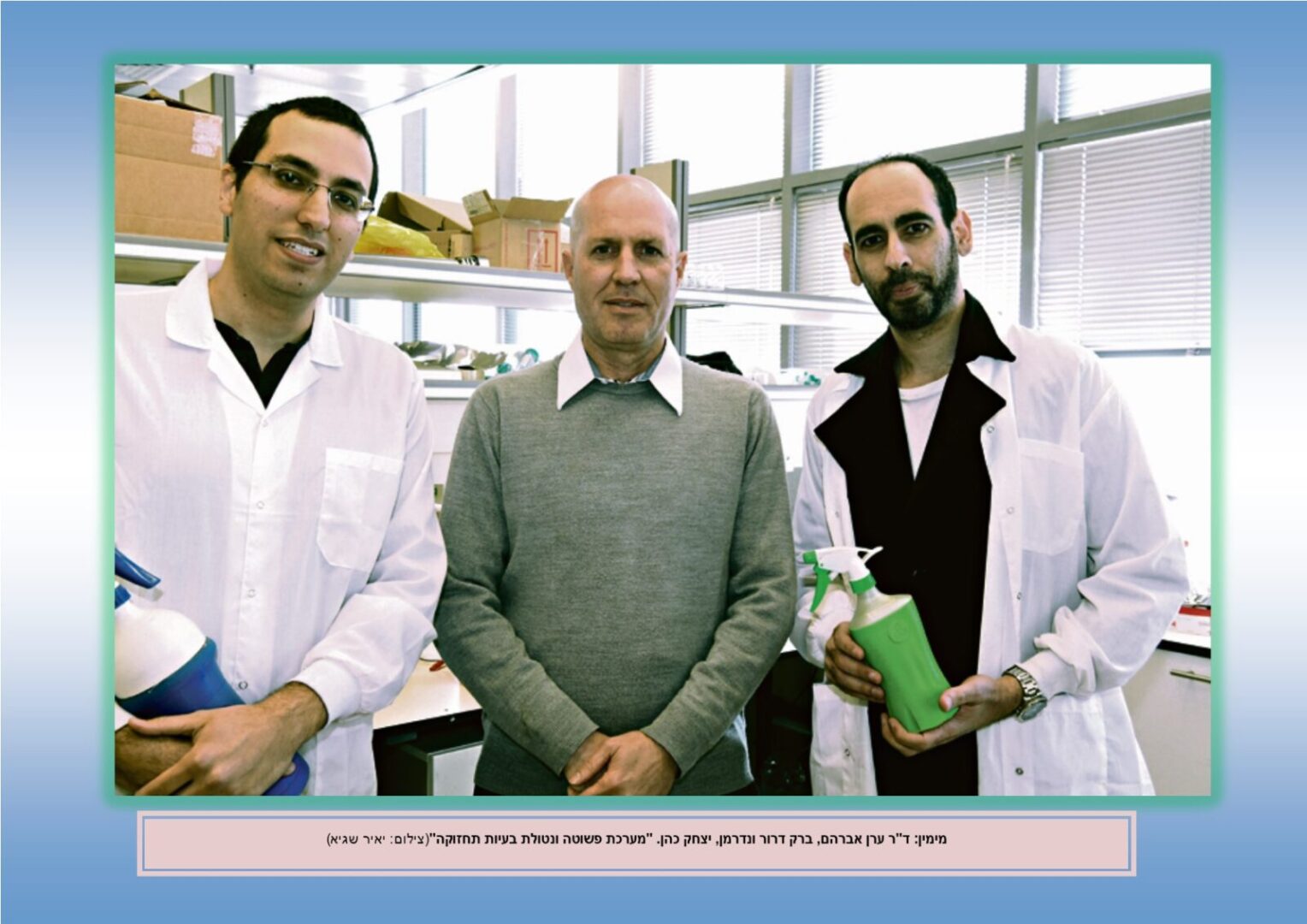 Researchers at Bar-Ilan University have developed a new and revolutionary technology to produce a powerful disinfectant based on tap water. According to the researchers, the disinfectant doesn't harm the environment and has many advantages: The material is effective and safe to use, is harmless to humans who smell or drink less than ten liters, and does not contaminate groundwater. The material has the ability to destroy all types of bacteria, spores and viruses, including bacteria that are resistant to antibiotics. The technology will replace the need for chemicals harmful to health and the environment, such as bleach, septolTM, chlorhexidine, ammonia, and more, and will eliminate the excessive and  use of contaminating disposable plastic.
The materials currently available on the market, which can be classified as effective anti-bacterial, require extra caution while using. For example, bleach exists in almost every household and hospital, but no one would think of washing a cutting board, let alone vegetables, or using it in the vicinity of children. If we take this a step forward, no one would think of "spraying" drops of alcohol from the opening of an air conditioner when a member of a household has the flu in order to prevent infection of the rest of the family.
The researchers who developed the technology are from the laboratory of Prof. Doron Aurbach, an international expert in electrochemistry from Bar-Ilan University's Chemistry Department. The invention is patented. Patent registration in Israel and several countries around the world was handled by BIRAD Research and Development Company Ltd., which commercializes Bar-Ilan University inventions.
Our production process explain the researchers, also takes advantage of oxygen dissolved in water and existing salts, unlike the others. "Moreover, unlike other technologies that include two large cells with a membrane separating the cells, which makes these devices large, cumbersome and costly, we were able to produce simple inexpensive low-cost, membrane-free systems that can be embedded even in a tube. All of this was achieved through the knowledge we gained during this long-term study."
The platform on which the technology is based enables the creation of a variety of solutions for the creation of spaces clean from bacteria micro-organism: for example: spray – aerosols (for disinfecting surfaces, appliances, beds, closets, bathrooms, toilets, etc.), containers for immersion (washing devices, hands etc.), disinfectant wipes, hand washing, shoe washing, buckets for washing and disinfecting floors, air-conditioning systems, washing machines, and dry fog air-purifiers.
So, how does it work? By designing an array of nanometer-shaped electrodes with unique surface properties. The meeting between water and electrode creates a cleaning material in a unique aquatic environment. The combination of these compounds gives rise to an effective antibacterial capability for microorganisms (bacteria, viruses and spores), while at the same time safe for macro organisms (larger bodies such as our skin cells).
"The ability to produce electrodes in a variety of shapes and textures makes the technology suitable to almost any application – from a 'cassette' in an air conditioner, a container for washing fish and meat, to disinfection and removal of pesticides from vegetables and fruit, mobile spray, a device for manufacturing disposable antibacterial cloths and many other applications," emphasizes Dr. Eran Avraham, who developed the technology.  "Imagine a situation in which you are at a busy mall and are interested in using the public bathroom. All you have to do is take out the compact spray bottle, access the nearest tap, and press the power button. Now you have a disinfectant that will allow you with a simple spray to sterilize the toilet and bathroom space and be protected."
Dr. Izaak Cohen, who co-developed the technology, adds: "Today's disinfectants are problematic, unlike our unique disinfectant technology, although they are very commonly used in laboratories, clinics and hospitals. For instance – Septol, is very common in hospitals, however, it is expensive and dries the skin. Today's Septol is problematic and its use is questionable because there are more and more reports of bacteria that have developed resistance to it. Chlorhexidine, which is commonly used to disinfect medical equipment and surfaces, is flammable, explosive and dangerous to electrical products, and it has been reported that there are bacteria that have developed resistance to it as well. Quaternary ammonium, which is used for disinfecting laboratory equipment, is toxic. The chemicals of various kinds are substances that damage both the quality of the devices and their shelf life, as well as damage groundwater".
Entrepreneur Barak Dror Vanderman has extensive experience in entrepreneurship, management and business development, seeking breakthrough technologies, and worked on the commercialization and establishment of the company AqooA Solutions, Eco Sanitizing Technologies.
We are on the brink of revolution by making the most effective green disinfectant available to the entire population and medical institutions. Technology that will save many lives, save the economy a lot of money, will eliminate the use of hazardous chemicals that harm the environment such as bleach, whose sales reach around $91 billion a year. "We developed the technology in several prototypes and we are in the final stage in terms of R&D. We are currently embarking on a round of fundraising and will then focus on electrical engineering, electronics and product design," notes Wanderman.
Recently, an experiment was conducted in one of Israel's hospitals to test the efficacy of the material in real-life conditions. Bacterial pathogens were taken from patients in various departments. The bacteria were selected were resistant to antibiotics, resistant to a watery environment and these are bacteria that "infest" hospitals. The results were unequivocal. After just three minutes of exposure to the disinfectant material all the bacteria were destroyed, in some cases even a few seconds was enough to kill the bacteria.  Now, imagine that in a hospital room, the curtains, the counters, and even the IV bar frequently come into contact with the disinfectant.
During the course of the research, several models of prototypes (mobile spray and vegetable and fruit processing bottles) were developed. With the help of BIRAD, the entrepreneur and the researchers are currently embarking on a round of fundraising and locating investors, focusing on electrical engineering, electronics and product design.
Dr. Frances Shalit, VP of Business Development at BIRAD, explains the importance of the invention: "There are many antibacterial disinfectants on the market, but this material is based on water, cheaper than them, three times more effective, seven times less toxic for humans, preserves these capabilities for much longer (months and years) and covers a large variety of bacteria. " Dr. Shalit is convinced that many industries will want to add this material to their products and gain these important results at a low cost.
For further information, contact: Merav Burstein:  – 052-2229330 – [email protected]